Mar 23 2013
In the past I have mostly used Windows as my main operating system. Some times I have used Ubuntu, especially as file server with ZFS port of ubuntu. I had tried it on my work laptop but it was very unstable mainly due to 3D Nvidia drivers used for composite desktop effects.  Later I have used a Mac Mini my home file server, it is connected to LCD TV and host all pictures, musics. But am not using it as a desktop computer.
Last week I have bought my first Macbook pro laptop. I have very satisfied with it. Nearly all of the programs I have used to in Windows have Mac OS X ports. I have performed following adjustments to my Mac since last week:
Install XtraFinder: I have used to TotalCommander in Windows. Which mainly adds side by side dual panel and tabbed view besides other productivity features. 
Installed sparrow for mail. It has unified inbox for your multiple mail addresses. Supports every feature of Gmail, including labels, archiving etc.
Installed iterm 2 to replace mac terminal. It provides dual pane and tab support.
Installed TextMate2 for text editing.
Installed Parallels 8 for running Windows virtual machine. See below, office application.
Installed MarsEdit 3 for blogging. See below, problems section.
Installed IntelliJ 12 for my software development projects. Although it is not a native Cocoa application it has no problems with retina display.
Installed gfxCardStatus application to track which graphic card is being used, and which application is using it.
Installed iStatMenu to display CPU, Temprature, Memory, Network, Disk statistics in status bar.
Installed Chrome and disabled flash plugin. It uses a lot of cpu. Since it i disabled most of the sites offering html5 content. If I need flash absolutely, I open that site in safari.
I am reading a few books on Mac OS X safari books. You could discover most of the features by yourself, but there are some advance features, like AppleScript and Services which may be difficult to learn by yourself.
Installed Android File Transfer to transfer files between my android phone and Mac OS.
Purchased and installed BetterSnap Tool. It is very chip and effective program when compared to other alternatives like Cinch.
Problems so far:
Different Shortcuts: Applications has different bookmarks than I have used to in Windows. This is especially a bigger problem in shortcut heavy applications like IntelliJ.
Skitch: It is causing discrete graphic card to be used even when it is running in the background. This significantly reduces laptops battery life. I have submitted a bug report on this problem. I have traced which application is using gfxCardStatus application as shown below. Actually a lot of simple applications are causing Macbook to switch discrete graphic card.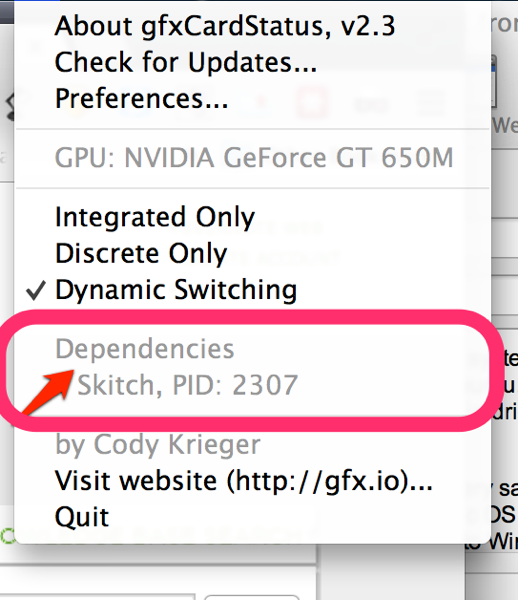 Blogging software. Mac has nothing comparable to Windows Live Writer. Finally I have decided with MarsEdit but it is costly, $40. Windows Live Writer is superior to it and it is free. But MarsEdit is also causing discrete graphic card to be used which significantly reduces battery life. 

Maximize button (the green plus icon) does not work well.

I could not use my office key for Mac, this mean I have to purchase Office again. I do not want to do this, because I use it rarely. 

There is nothing comparable to Fiddler2 to debug http. Even the paid applications are not as capable as Fiddler2. I think I will use Fiddler2 on Windows using parallels.